"Ja-dai-aich" meaning 'outer island' was the early Comox Valley Indian name for Hornby Island and the inspiration for our identity. It's a simple life we lead here. The deer roam the orchard and the fields, and the panoramic views of the beaches, ocean and mountains are never taken for granted. Our name "Outer Island" defines the solitude and peaceful existence of this land as a retreat from today's hectic urban world. It is a compelling place of intrigue and discovery.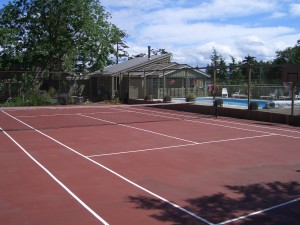 The rustic charm of our ranch homestead, set on 14 acres of farmland, provides a tranquil atmosphere for our guests - a place to relax, rejuvenate and to see agricultural living first-hand.
Country living means green pastures, meadow grasses, cool breezes and bountiful harvests. We take great pride in producing delicious natural fruit, vegetables, herbs, chickens and lamb. One needs only to stroll through our orchard sampling the goodness to appreciate the difference true freshness makes.
We use only the finest ingredients from our own backyard in our cooking. Imagine a hearty country breakfast of farm-fresh eggs with herbs and vegetables straight from the garden, plump and juicy fruit so fresh it still has the morning dew on it, and the smell of baked breads with our very own preserves melting on top.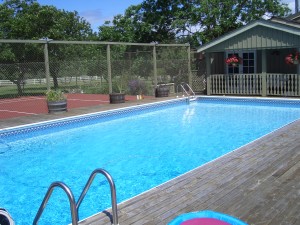 The simple life does not exclude modern conveniences that enrich one's leisure time. We encourage you to lounge by our seasonal pool and enjoy a game of tennis with friends.
For your farm-stay, we offer two private guest units. Our main Farm House is perfect for the whole family or groups of friends. Our cozy Quince Cottage makes the ideal romantic getaway or small group setting. The house and cottage are available for weekly stays throughout the year. They are also available for shorter stays and B&B accommodation from September to June
Outer Island is a family-run business and farm. We invite you to come and experience life on the Island as we know and love it.
Horses are a passion of ours and we have a few for you to visit with over the fence or when we are with them. We are sorry that we do not offer horseback riding to our guests.
"I just have to imagine myself standing
on a ladder in the wind and the sun,
stretching for the most perfect
apple in the world and I am again on a
`mini-vacation of the mind"
Mavis Duthie, Nashville TN